Cato Park
---
In 1970, Charleston attorney, Henry S. Cato, created the 'Cato Park Foundation' with the heart of a true Charlestonian: develop a park for the people. Almost 50 years later, we hope we are making Cato proud!
Located on Baker Lane, in the hills of Charleston's West Side, lies our beautiful 90+ acre park. Cato Park encompasses the recreational and leisure amenities most communities sought-after. Picnic areas, ample parking, a playground, seasonal swimming pool, and more are just a few ways we have made Cato's aspirations to have a park- free of any charge whatsoever- for those of Charleston to benefit and enjoy themselves.
Get In Touch
Rashaun Poore , Director Parks and Recreation
Dax Miller , Manager Leisure Services

200 Baker Lane
Charleston, WV 25301
(304)348-6860
Hours:
Open: 8:30 am - 4:30 pm Monday - Friday
Closed Saturday and Sunday
Director of Parks and Recreation:
Rashaun Poore
---
Trail System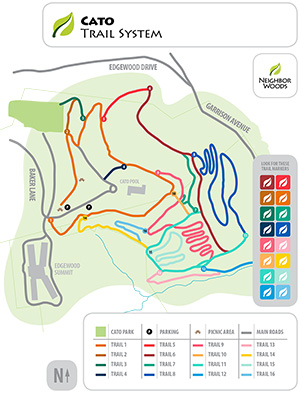 Cato Trail System
Cato Park is a gem all of its own. Within this inter-city park you can play a round on our nine hole 3-par golf course which is said to be one of the oldest courses in the state. Not much of a golfer? Give our 14-hole foot golf course a try on our 36-acre golf course. Grabbed your attention with soccer? Be sure to check out our Loren Treister Soccer Field for practice and play.
Didn't think there could possibly be more? Well may we invite you to join us on our growing 5+ mile trail system right here in Cato Park: hikers, bikers, runners/walkers, and furry-friends alike are always welcome.
---
Photos
---
We hope you'll recreate with us and think of Cato Park as fondly as we do.